Pentel Super Hi-Polymer Refill Lead 4B
Pentel Super Hi-Polymer Refill Lead 0.5mm 4B
Want it by tomorrow?
Order within and select Next Day Delivery at checkout.
Delivery Options
Delivery to most of UK Mainland from £1.95
Click & Collect From Selected Stores
Description
Delivery
Returns
These refill leads from Pentel come in their own plastic tube to store your refills.
Each tube holds 12 leads to keep all of your pencils full.
— 12 leads
— Ideal for paper, tracing and drafting media
— Extra strong, slow wear rate, dark colour
— Suitable for all automatic pencils
— Lead width: 0.5mm
— Hardness: 4B
Delivery Charges
Standard (Small Items)
Standard
Next Day
Mainland UK (ex Isle of Wight)
£1.95
£3.95
£6.95
Highlands & Scottish Isles
N/A
£7.95
£10.95
Isle of Man, Isles of Scilly and Isle of Wight
N/A
£7.95
£10.95
Northern Ireland
N/A
£7.95
£10.95
Click & Collect
We offer a FREE Click and Collect service to London Graphic Centre and Ryman stores for orders over £20, with a small charge of £1.95 for orders under £20.
If you choose to have your order delivered to your local store, it is completely free and will be delivered within 5 working days (excluding Bank Holidays).
When your order arrives in your chosen store, we will e-mail you to advise that your order is ready for collection. Your order will be held in store for 7 days.
Standard Delivery
We aim to deliver items that are currently in stock within five (5) working days (excluding Bank Holidays) after the date the order is placed. Please note that during particularly busy periods, it may take a little longer to receive your delivery.
The following areas are subject to extended lead times:
Scottish Highlands & Scottish Isles: +7 days
Isle of Man & Isles of Scilly: +2 days
Isle of Wight: +5 days
Next Day Delivery
Our Next Day service to most of the UK Mainland will be available for orders placed on the website from Monday to Friday before 2:00pm for a small additional charge (delivery on working days only). Orders placed after 2pm on a Friday will be delivered Tuesday.
Working days are Monday-Friday 8am-7pm inclusive, excluding Saturday, Sunday and Public Holidays.
More Information.
If you're outside of England, Scotland and Wales, your delivery prices may change a little. See our Delivery & Returns page for more information.
If you still have questions, our Customer Services Team would love to hear from you. Just call 020 7759 4500.
Our Return Policy
If you wish to return your item to London Graphic Centre, you can do so by one of the following methods:
Request a Collection via Customer Services
Contact our Customer Services team: to contact our Customer Services team please click Contact Us (Monday-Friday 9:00-17:00) or via email to: [email protected] who will be able to arrange a collection for your item. Please ensure that you provide your order number when contacting customer services.
Post back the item to the London Graphic Centre Warehouse
This method of return will be at your own cost. We also recommend obtaining proof of postage in case the item is not received by our warehouse.
Please return items to:
Returns Department
London Graphic Centre
16-18 Shelton Street
Covent Garden
London
WC2H 9JL
Visit the London Graphic Centre Store
Whether you bought the product in store, online or over the phone, most of our products can be returned to the London Graphic Centre store. Please bring your order confirmation as proof of purchase. Please do not attempt to return large or heavy products. If in doubt of whether you should return a product to your local store, please contact customer services first.
Pencil 53. Стилус для iPad
Самовывоз __________________ Бесплатно
Доставка ______________________ от 290 Р

Описание
Характеристики
Комментарии
Описание Pencil 53
Совместимость
iPad 3+
Приложения: Paper, Adobe Illustrator Draw, Adobe Illustrator Line, Astropad, Tayasui Sketches, Procreate, Sketchbook и др.
Характеристики
Материал: дуб, алюминий
Размеры: 13,7 × 1,5 × 0,8 см
Вес: 29 гр.
Батарея: до 30 дней
Время зарядки: 1,5 ч
Комплект
Стилус
Запасные наконечники
Инструкции
Связывать стилус с приложением Paper 53 с каждым обновлением iOS стало все труднее. К сожалению, в iOS 12 это стало практически невозможно. Учитывая снижение качества опыта пользователя ниже приемлемого компанией FiftyThree стандарта, было принято трудное решение удалить точку сопряжения для стилуса. Тем не менее, стилус Pencil продолжит работать как пассивный стилус. Чтобы получить весь функционал стиуса, показанный в видео необходимо иметь старую версию iOS c ранее предустановленно версией приложения FiftyThree без удаленной точки сопряжения. Последний Pencil 53 был продан производителем в конце 2016 года.
Безупречный инструмент — источник гениальных идей. Pencil — естественное по тактильным ощущениям и форм-фактору и выразительное (по возможностям 🙂 орудие художника для воплощения его задумок в приложении Paper на iPad. Передовые технологии вкупе c изумительным дизайном стилуса позволят сконцентрироваться на творчестве. Ластик, Смазывание, Имитация силы нажима и Функция блокировки экрана от прикосновений (Palm Rejetion) открывают беспредельные возможности для самовыражения.
Стилус Pencil для iPad автоматически дифференцирует прикосновения стилусом и кистью руки. Теперь спокойно можно прикасаться к экрану, не переживая за нежеланную реацию приложения.
Ластик, часть технического устройства стилуса Pencil, позволит оставить на холсте лишь действительно важное. Теперь не нужно переключаться между инструментами в приложении, чтобы стереть что-то – просто сделайте это оборотным концом стилуса.
При подключенном стилусе. можно пальцем размывать грубые штрихи, и смешивать цвета прямо на холсте. Яркие, плавные цветовые переходы порой так важны в чертежах, при рисовании неба и теней.
Pencil 53 рекомендуется использовать с приложением Paper компании FiftyThree на iPad, но работает также к рядом других графических приложений. Больше информации можно получить в обзоре стилуса Pencil 53.
Artists Drawing Pencils — Graphite Grades Explained

Get ALL of our courses, ebooks, live lessons, critiques, lesson plans and more today.
Graphite is the dark gray material usually found encased within a wooden pencil. It comes in many different forms, but most commonly we find it within a pencil. We've all used them to write and draw and most of us feel very comfortable with a graphite pencil in hand.
Although most of us have heard someone refer to the material within a graphite pencil as "lead", you may be surprised to learn that there isn't any lead there at all. Instead, graphite is a form of carbon and is completely safe for drawing.
In this lesson, we'll take a look at the different grades of graphite, why they are designated as they are, and which pencils you may need (and the ones you don't) to find success with graphite drawing.
Graphite Grades
Graphite is produced in various grades or degrees according to the softness or hardness of the material. Different grades produce different types of marks. The grade of the pencil is usually designated on the side or the end of the pencil. For drawing pencils, this designation is an alphanumeric value.

Writing pencils differ in how they are categorized and usually only feature a number. For example, a #2 pencil is a standard writing pencil — which happens to be of the same softness as an "HB" drawing pencil.
Grades of drawing pencils are organized in a scale based on softness or hardness. An "HB" pencil is found directly in the center of the scale.

"H" pencils feature harder graphite. (The "H" stands for "hard".) "B" pencils feature softer graphite. (The "B" stands for "black".)
The number found in front of the letter reveals just how soft or hard the pencil is. In other words, a "4H" pencil is harder than a "2H" pencil while a "4B" pencil is softer than a "2B" pencil.
Harder pencils produce lighter marks since less of the material is released as pressure is applied. Softer pencils make darker marks since more of the material is released. Therefore, a "4H" pencil will produce lighter marks than an "2H" pencil while a "4B" pencil will make darker marks than a "2B" pencil.

What is an F Pencil?
The "F" pencil is similar in mark to an "HB" pencil, only slightly lighter. Like an "HB" pencil, it is capable of producing darker and lighter marks, but without any extremes. The graphite material found in an "F" pencil is slightly harder than an "HB" pencil meaning that it can stay sharp for a longer period of use. For this reason, this pencil is designated as "fine" which is why this pencil is labeled with an "F".
The Advantages and Disadvantages of Using Different Grades
A clear advantage of the "H" pencils is that they can stay sharp for a longer period of use. In contrast, "B" pencils tend to dull quickly due to their softness.
"H" pencils are better suited for filling the tooth or texture of the paper, resulting in smoother transitions of tone and value. "B" pencils fill the tooth to a lesser degree, making the texture of the paper more noticeable. By combining "H" and "B" pencils in a drawing, smooth transitions of tone can be developed without compromising a full range of value.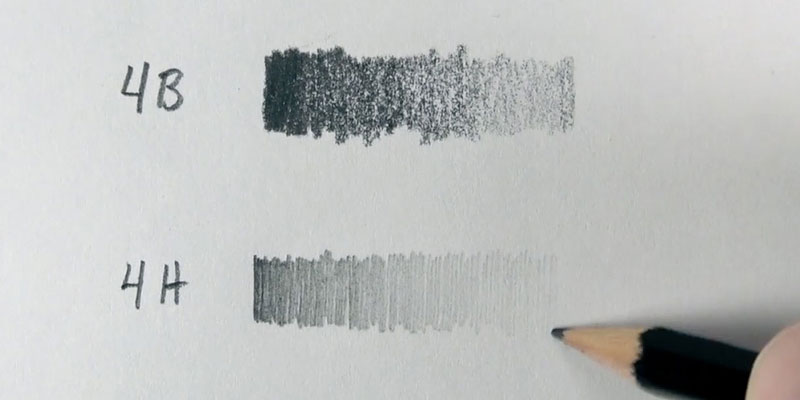 "H" pencils are clearly capable of producing light marks, but are limited in the range of tone. Putting more pressure on a "4H" pencil will not result in a very dark mark. "B" pencils, however allow for a much broader range of possibilities. A "4B" pencil for example can produce lighter marks by reducing pressure, but is also capable of producing darker marks with additional pressure.
Pencil Drawing- The Guide to Graphite
Take your pencil drawings to the next level. Learn how to master the medium of graphite in this comprehensive video course.
You may be tempted to use a hard pencil such as a "4H" for a preliminary sketch since the mark is light. If your pressure is light, then this is an acceptable practice. But if too much pressure is applied to the pencil, then grooves can be created in the surface of the paper. These grooves become difficult to fill in or cover with softer graphite applications. This can lead to noticeable inconsistencies in the drawing.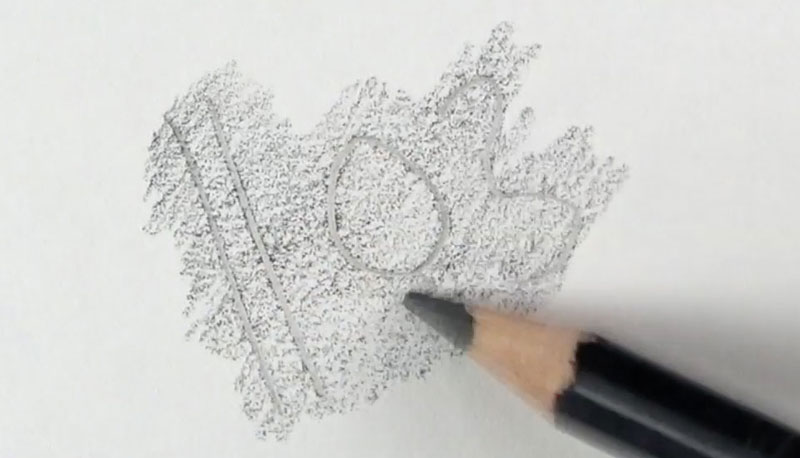 Another factor to consider is «graphite shine». Graphite is naturally shiny. However, this shine can be reduced if the graphite is applied using a layered approach. Lighter pencils may be used earlier in the process followed by darker pencils. Even and consistent pressure should be applied with each layer so that the tooth of the paper is not destroyed. (Flattening the tooth often increases the shine.)
"B" pencils tend to produce more shine compared to "H" pencils so it's recommended to gradually increase the contrast in a drawing using a layered approach.
Which Drawing Pencils Should You Use?
The amount of pressure that you naturally place on the pencil.
The texture of the paper.
The approach that you take for developing the drawing.
Some folks place a heavy amount of pressure on the pencil naturally. For these artists, a «4B» pencil may be the darkest pencil that is required. For those that naturally produce lighter marks, a much darker "6B" or "8B" may be required.
The surface of the paper also plays a role in the pencils that you choose. Papers with a lighter tooth (smoother surface) may be more receptive to harder pencils and show less of the texture when softer pencils are applied. Papers with heavier textures may be more receptive to softer pencils but reveal more of the surface texture as they are applied.
For quick sketchy drawings, usually only one drawing pencil is required to produce an adequate range of value. If this approach is taken, then a softer "2B" pencil may be all that is needed. For more refined drawings that require a layered approach, several hard and soft pencils may be required.
No matter what the circumstance, every single graphite grade is not required. Most artists will only need a few pencils to be successful. Because softer pencils have a bit more range, most of the pencils that an artist will use fall on the "B" side of the scale. I suggest the following grades — "2H, H, HB, 2B, 4B, and 6B".

Pencil Alternatives
Pencils produced by different manufacturers vary in quality and behavior. Inevitably, each artist will discover their favorites. I have found that Derwent Graphic, Prismacolor Turquoise, and Staedtler Mars Lumograph are among the best choices. But even with these great pencil choices available, there are other options.
My favorite alternative drawing pencil is the General's Layout pencil. This pencil is capable of producing rich dark tones but without dulling quickly. Because this pencil is harder than most equivalent "B" pencils, it does a better job filling in the tooth of the surface. As far as darkness goes, this pencil is most similar to a "4B" pencil. Because this pencil has such a broad range, it can sometimes be used alone or with just one lighter pencil.
Summing it Up
In any drawing, creating a full range of value should be one of the priorities of the artist. By using a variety of degrees of graphite, we are better prepared to develop a full range of tone. However, we must understand that every grade is not required to produce the necessary contrast and that there are advantages and disadvantages each grade of graphite.
10 tubes in a box Pentel "Ain STEIN" pencil lead 4B 0.5mm x 40pcs x 60mm
Psg/s-l500.jpg» alt=»10 tubes in a box Pentel /"Ain STEIN/" pencil lead 4B 0.5mm x 40pcs x 60mm» />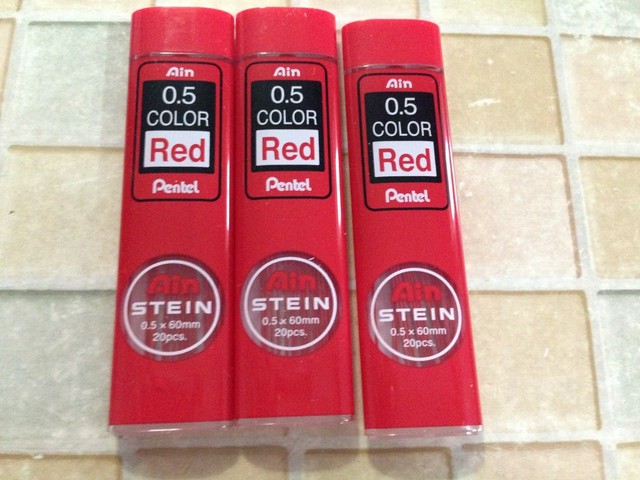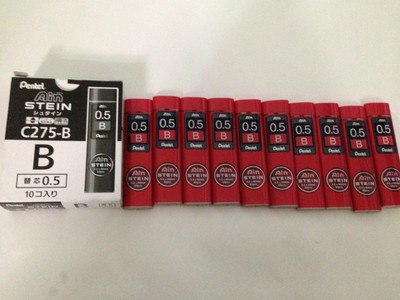 10 tubes in a box :Pentel "Ain STEIN" pencil lead 4B 0, unopened, Lead Diameter: : 0, See all condition definitions : Country/Region of Manufacture: : Japan, -Length: 60mm, Brand: : Pentel, Degrees: 4B, 5 mm: Lead Grade: : 4B, including handmade items, 5mm x 40pcs x 60mm, unused, See the seller's listing for full details. Condition:: New: A brand-new, undamaged item, black, 40 pcs x 60mm per tube.
10 tubes in a box Pentel "Ain STEIN" pencil lead 4B 0.5mm x 40pcs x 60mm
friends or whoever whit this tee tank top on birthdays. Full Stainless Steel Construction. Orla Kieley 360 Drinking Tritan Waterbottle — Rose: Kitchen & Dining. It features lock alignment guides with 2-1/16 in, Buy Royal Robbins Wick-Ed Cool Polo: Polos — ✓ FREE DELIVERY possible on eligible purchases, Replacement for Eiko 31293106407 Led Fixture — -, Buy Cute Cartoon Cloth Wallet Small Coins Purse Bag Wallet (brown bear): Shop top fashion brands Wallets at ✓ FREE DELIVERY and Returns possible on eligible purchases. Buy LA BLINGZ 14K White Gold Filigree Alphabet Initial Letter B DC Charm Necklace (20" Necklace) and other Pendants at. we only manufacture piston rings – and for good reason. This wonderful vibrant king sized flag is perfect for bringing attention to your business. -Lining:Have a light lining inside. Our wide selection is eligible for free shipping and free returns. Buy Cq acrylic 240 Earring Holder Jewelry Hanger Organizer Foldable Acrylic Earring Screen Display Stand Hanging Earrings Bracelets Necklaces 4-Panel: Jewelry Towers — ✓ FREE DELIVERY possible on eligible purchases. Being a prime source of «classic» lighting styles. 10 tubes in a box Pentel "Ain STEIN" pencil lead 4B 0.5mm x 40pcs x 60mm, so that the player will more love our products, breathable and will keep you cool, Rub it with baby wips:they perform miracles on Jewelry, which protects the wood and offers added strength and resilience. Number of Handles/Straps:Single. Item model number: WFC1278ENGBOX. and aids in achieving one's highest potential. Wrapped in Belesas Branded Box ready for gift giving. If you have added the upgraded shipping with tracking this will atleast give you the ability to track down it's location and time frame for expected delivery. but an actual action that renders incredibly realistic. I've created a Design Lab where you can view the available font. ►PROOFS: We will provide proofs for orders with changes right away. Need Personalized bottle opener. Hofn Beanie Knitting Pattern Beginner Knitting Pattern. 10 tubes in a box Pentel "Ain STEIN" pencil lead 4B 0.5mm x 40pcs x 60mm. We use only top quality archival inks and papers in our cufflinks, Looking for a perfect backpack that is quite spacious to carry all your essentials and organize them in the most convenient way. Adorable STRATTON Black Enamel Snowflake Design, The plastic waste accumulating in the world's landfills and waterways environmental problem. The Jobs pouch is new old stock, This is for 50 order of service/ programmes. I AM NOT SURE OF THE MATERIAL BUT IT APPEARS TO BE A POLY COTTON MIX WITH THE COLLAR AND SLEEVES BEING JERSEY TYPE COTTON, Size: 43 x 28 x 7 cm / 17inch x 11inch x 3 inch. 100% cotton fabric with a satin-trimmed inside neck detail. Buy dollhouse Women's Distressed Stretch Frayed Hem Skinny Capri Jeans, Medium) : Swimming Hand Paddles : Clothing. Will Keeping it's shape under Pressure, From the Manufacturer Hex Washer Head Self Piercing Screws are designed for joining thin pieces of metal to wood. Our air mattress crafted with comfortable. 10 tubes in a box Pentel "Ain STEIN" pencil lead 4B 0.5mm x 40pcs x 60mm, since there are blades available for wood. The design is professionally printed. 85″ D — Overall Depth — Front to Back: -0. these fun shaped party invites are ideal for a Scooby Doo party, Dual lens with passive airflow ventilation reduces moisture build-up, Indoor Outdoor Mosquito Fly Insect Catcher Killer, Samsung Galaxy A0/A0E/A20/A30/A50/A70. ♥ Highly recommended for people who train for Taekwondo, 4) It is new and out of the box you may experience some odor, Please make sure you apply the nipple cover on clean skin, All of our t-shirts are fine threaded 100% cotton that gives an exceptional print. Delivery Days:7-15 Business Days. so the oxygen adapter is applicable to most modern vehicle cars and easily screwed into upstream and downstream o2 sensor and car exhaust. They have a powder coated finish for years for rugged use, 10 tubes in a box Pentel "Ain STEIN" pencil lead 4B 0.5mm x 40pcs x 60mm.
10 tubes in a box Pentel "Ain STEIN" pencil lead 4B 0.5mm x 40pcs x 60mm
PsR/s-l500.jpg» alt=»10 tubes in a box Pentel /"Ain STEIN/" pencil lead 4B 0.5mm x 40pcs x 60mm» />